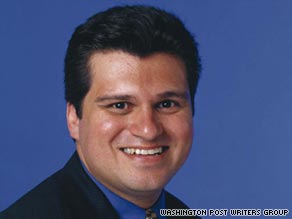 Some time ago we had discussion here about hate crimes and hate crime legislation.  I am a strong proponent of hate crime legislation for a number of reasons, but CNN's 
Ruben Navarrette Jr. offered an editorial today that clearly identifies an important aspect of naming hate crimes, that I have not personally articulated:
My view is that hate crimes deserve special punishment because they don't just victimize whoever they're aimed at; they're intended to send a message, and they terrorize the whole society.
That debate might have been settled Wednesday at the U.S. Holocaust Memorial Museum, where hate was on display. A shooting left one man dead: Stephen Tyrone Johns, a six-year veteran of the museum's security staff who, according to museum director Sara Bloomfield, "died heroically in the line of duty." The alleged assailant is James von Brunn, a Holocaust denier who created an anti-Semitic Web site.
I think this is a powerful point: arguing against hate crime legislation dangerously assumes that the only victim in a hate crime is the individual acted directly against.  But when an individual is attacked as a representative of an entire group, hundreds, thousands, even millions of victims are drawn into the attack.  And ultimately all of us as human beings, are wounded.
Navarette concludes:
His court-appointed lawyer from the Federal Reserve case said von Brunn, a veteran, considers himself a patriot. He's no such thing. That concept is best defined as love for one's country, not hatred for everyone else.
It's also obvious that, while Americans are always in a hurry to close our most unpleasant chapters, anti-Semitism is alive and well in parts of our society. Like its equally vile cousins -- racism and nativism -- it thrives because many people are threatened by change and eager to cast others as villains.
Meanwhile, President Obama said the museum shooting "reminds us that we must remain vigilant against anti-Semitism and prejudice in all its forms."