So, can you do this?
And get away with it?
Ann Holmes Redding has been an Episcopal minister for 30 years. For the past 3 years, she's also been a practicing Muslim.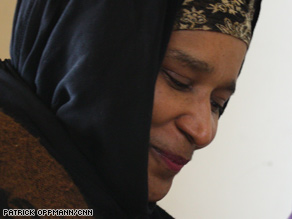 The
CNN.com article
reads: "Redding said her conversion to Islam was sparked by an interfaith gathering she attended three years ago. During the meeting, an imam demonstrated Muslim chants and meditation to the group. Redding said the beauty of the moment and the imam's humbleness before God stuck with her."
Redding continues, "Both religions say there's only one God," Redding said, "and that God is the same God. It's very clear we are talking about the same God! So I haven't shifted my allegiance."
I made an argument here, once, that the God of Abraham and Isaac is the God of Christianity, Judaism
and Islam
. Of course God manifests differently based not only on theology, but on culture and language (as with segments
within
Christianity). Some blog visitors didn't like that idea. And I understand: it's scary to suggest commonality with a worldview that has been asserted as a "sworn enemy." But travel back to the Bible, and read God's promises to Ishmael. Interesting...
I'm not saying I think Christianity and Islam are the same. I recognize that we don't even believe the same things
about
God. But I could say the same of myself and Southern Baptists. Or Assemblies of God. Or Roman Catholics. Just like we were talking about a few days ago concerning
Process Theology
, we tend to make God in our own image.
Jen and I used to take yoga classes together. I don't anymore (no time) but she does. We both find yoga to be a powerful mind-body excercise that helps center ourselves. Christianity doesn't offer a similar practice (although Christianized variants on yoga practice have been developed... a sort of ritual-colonialism, maybe).
But don't we get very worried when someone suggests they need something beyond what we have? "If it's good enough for me, it's good enough for YOU!" we defend.
Redding said she does not want her belief in two religions to diminish the value she holds for both Christianity and Islam. Each faith by itself is enough to fulfill a person spiritually, she said. "It's all there. I am not saying you have to go somewhere else to be complete. Some people don't need glasses, some people need single lenses. I need bifocals."
I'm not sure what I "need," but I'm pretty certain my own need begins and ends with Jesus Christ. But there may be room for something else in the middle. Like Star Trek or Buddha, or Czech Beer. Hmmm... should that make me uncomfortable?
Click here to read the full CNN.com story...