CNN's Roland S. Martin offered a compelling critque of a Southern Baptist chain of bookstores that refused to stock a Christian magazine for recognizing
female
pastors
.
"Yes, hello 1950 -
THERE you are!
"
This is (I believe) the same chain that refused to stock Dr. Leonard Sweet's books after
Out of the Question: Into the Mystery
was released. In that book, Sweet had the audacity to suggest that
JESUS
is a higher authority for Christians than the
Bible
. Apparently, heresy hides even in Christ-following.
And women's equality is just another "dangerous idea."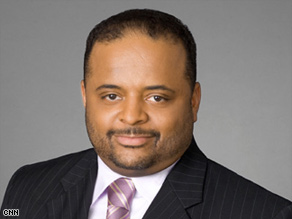 (CNN) -- In the 19 years that Teresa Hairston has published her magazine, GospelToday, she has never faced a major situation with Christian bookstores across the country that carry the publication. She's tackled any number of issues over the years,and has featured a number of celebrities and ministers, ranging from Yolanda Adams to Bishop T.D. Jakes to Kirk Franklin.

But when the Atlanta, Georgia, entrepreneur decided to feature five female pastors on her cover this month, she says, Lifeway Christian Stores treated her like she had converted her Christian publication to something akin to the tastes of porn purveyor Larry Flynt.

Apparently, the owner of Lifeway, the Southern Baptist Convention, wasn't too happy with Hairston telling the story of female pastors, because the women go against their 2000 decree that only men can serve in the role of reverend or pastor.

According to Hairston, the Christian company didn't even give her the courtesy of a heads-up.

"We got an anonymous tip," she told me Tuesday on The Tom Joyner Morning Show, and after checking it out, she discovered that the magazine had been removed from the shelves in all of Lifeway's 100-plus stores nationwide and had been placed behind the counter.

"They have never called me," Hairston said. "Never sent an e-mail. Nothing. I had to go see my distributor to verify what they had done."

The actions of Lifeway didn't stun me. I had seen this movie before.

A few years ago, my wife was a longtime Lifeway teacher. She had taught at the company's teaching centers for years, but then one day, she was notified that she would have to take down her Web site and comply with their rules against female pastors or be dropped as a teacher. Her crime? Calling herself the Rev. Jacquie Hood Martin...
read more